Fullness, Hems and Rod Pockets
When fabricating curtains there is always a choice between good and best.  As always, your budget and the look you want to achieve will both dictate what your finished product will be.  The bottom hems, side hems and rod pocket, as well as what fullness or gather will be involved in your decision on how many yards the project will use.  First things first.  Before you start you may want to go to our "Designing Window Treatments" page to get ideas on what your final look can achieve.
How full will the gather be?
Once you have decided the ultimate look you then should decide what fullness or gather you wish to see in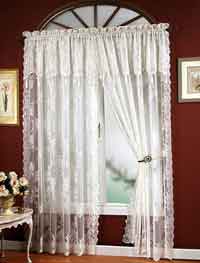 your finished curtains.  It may be a good idea to gather a sheet on a long piece of pipe or rod to see how much gather would look good to you.  When figuring on this you can use fabric in the amount of 1 1/2, 2, 2 1/2 or 3 times the rod length.  This is know as the fullness.  As an example, most ready made lace curtains are shown with a 1 1/2 or 2 times fullness. Custom draperies 2 1/2 times fullness and custom sheers are 3 times fullness.  To some degree the weight or heaviness of the fabric makes a difference as well.  You would not want to make a heavy velvet curtain as full as an antique satin curtain and certainly far less full than a lace curtain or a sheer curtain.
Single or Double Hems
Once you have decided the fullness you next need to consider what size and style the rod pocket, side and bottom hems will be.  Ready made curtains and draperies are generally sewn using what are called single hems.  This means that the fabric is folded up and turned over just enough to be sewn.  This is a good way to save some yardage but does have a disadvantage.  When sunlight is behind the drapery the turned over raw edge can be seen.  If the hem is such that it is not back lighted, a single hem may be what you want.  There is, however, an additional advantage to having a double hem which is to add some body and weight to the curtain which helps it drape better.  Custom curtains, sheers and draperies are always finished with double rod pocket, side and bottom hems.  A bottom hem is folded up double the amount need for the hem and the top part is folded down to the original crease.  When this is done you also do not see the raw edge because it is folded completely down.
Size of Hems and Rod Pockets
The size of the hems can be quite different as well.  On a ready made product the bottom hem is usually 2 or 3 inches in width.  Custom bottom hems are always 4 and sometimes 5 inches to give a more quality look.  The side hems on a ready made curtain are usually 1/2 or 1 inch in width single hems and custom are almost always 1 1/2 inches in width double hems.  Occasionally on Lace Curtains the selvedges or sides are finished in a pattern and there is no need for a side hem.  The rod pocket for a curtain rod is generally 1 1/2 inches in width for either ready made or custom curtains, the first being single and the other double.  There can also be a top ruffle added above the rod pocket which can be 1, 2 or even 3 inches in height.  It is part of the same rod pocket hem with an additional sewing line down from the top to form the rod pocket. Of course, The calculation of yardage needed has to be added to the finished length is the addition of  hems, single or double, are very important to consider.  You also need to consider the pattern repeat in the design.  We also have a complete sewing instruction page in addition that further explains how to create these features.
We wish you the best of luck in your decorating endeavors.