COTTON LACE CURTAINS – NOTTINGHAM OR MADRAS – WHICH TO CHOOSE
Cotton Lace Curtains are available in two very distinct styles. The methods used in the production of each are interesting . Each of them is of exceptional quality and each has a different appeal. This will have a bearing on which Curtains you decide will meet your needs. Nottingham Curtains are 95% Cotton 5% Polyester and Madras Curtains are 100% Cotton. There is an important reason for the difference. Please remember that both are of excellent quality but attractive for differing reasons. They both are machine woven on 100 year old looms.
NOTTINGHAM LACE CURTAINS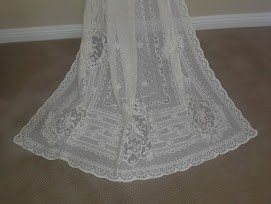 Nottingham is a type of machine-woven lace developed in the 1840s. It is probably the style most are familiar with. One of the largest differences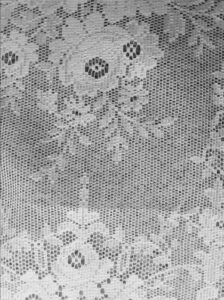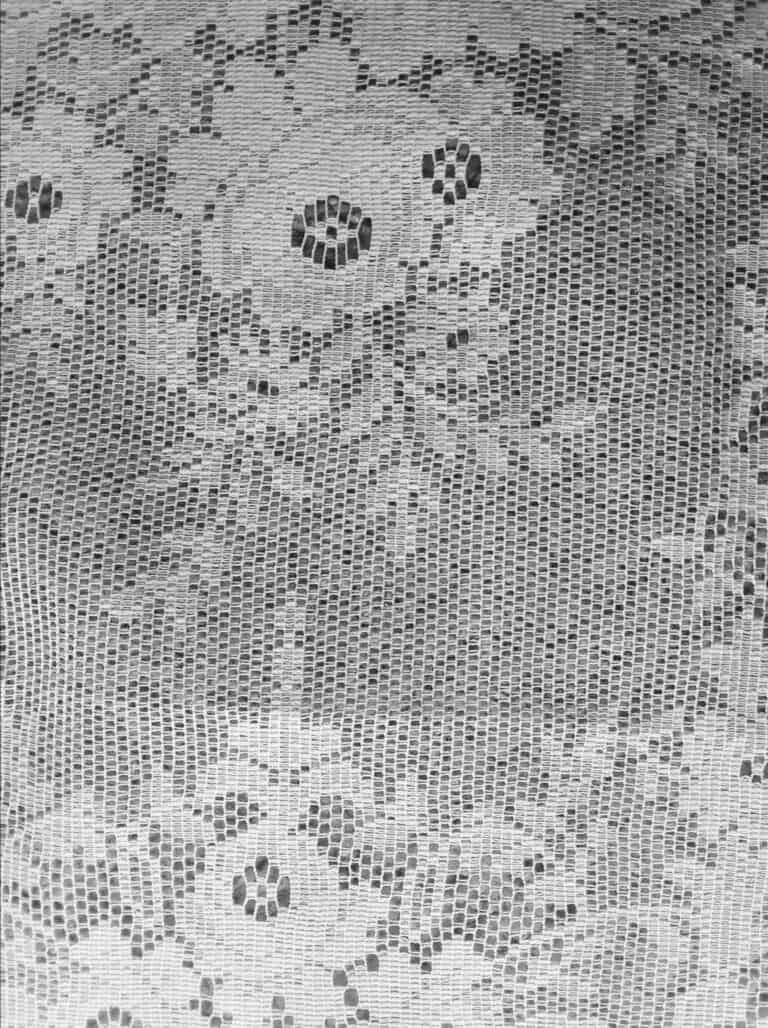 from Madras is that the Lace is available in several point sizes that determine the fineness or coarseness of the weave. The number of "points" of a woven lace is how many threads there are per inch. They are 8 point, 10 point, 12 point and 14 point lace, 8 point being the heaviest. The Nottingham style is such that the 5% Polyester is built in to the weave for stability. The way Madras is woven that is not necessary. Nottingham Curtains are produced on the same 100 year old looms as Madras by a much different method. We had pleasure of having provided our Nottingham Lace Curtains for the Franklin Delano Roosevelt Hyde Park home in his childhood bedroom and his Mother's bedroom where he was born. Our Curtains have been displayed in many movies, plays and privately owned vintage homes throughout the U.S.
MADRAS LACE CURTAINS
A Madras Lace Curtain features a much different design than Nottingham formed by a unique applique process. This is accomplished by first weaving a muslin (scrim) layer of cloth which the loom then passes over a second time creating an overlay of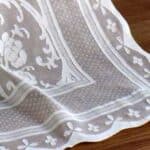 pattern. The overlay, in turn, is sheared to form a downy soft edged rich design. The name "Madras" was derived from the origin of the method in Madras, a city in India. The luxurious results are all now woven exclusively in Scotland. Some of the original Madras designs were envisioned by William Morris, a well known English Designer in the late 1800's. Madras Lace Curtains can be viewed in many estate homes throughout out the world including several displayed in our U.S. White House. Madras is especially attractive in a "Arts and Crafts style" or "Cottage style " lace curtains motif. Many consider Madras the finest of Laces but if you are unfamiliar with Madras we invite you to contact us for a free sample to see the difference before you order.
THE CHOICE IS YOURS
You will find many more of the traditional Victorian or European designs in Cotton. We frequently have orders from Restoration and Historical site projects that always prefer Cotton. We only carry the finest quality of both Polyester made in the U.S.A and Cotton Lace Curtains imported from Scotland.  You will have to make the final call on which product to use. I hope this will be of some help when making your decision to order lace window coverings. Be sure to see our many other suggestions on decorating or sewing. Be sure to visit the one section that shows every Lace Curtain, be it Polyester or Cotton.
YOUR DECISION – WE HOPE WE HAVE HELPED